Gypsy Stallion
Horse Feathers Geordi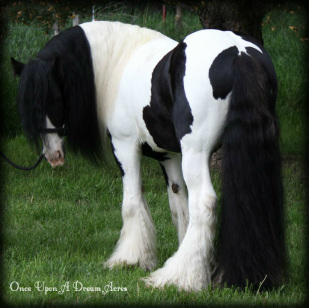 Geordi is our dream come true! I dreamed of having a beautiful black and white gypsy stallion ever sense I was a little girl. Geordi has lived up to everything I dreamed of and much, much more!


Geordi is a very stunning boy. Not only is he gorgeous, but he has an amazing temperament!
---
Horse Feathers Geordi was born at the wonderful gypsy breeding farm Horse Feathers Farm in Texas. He has some fantastic horses in his pedigree. Geordi is son of the famous Harlequin Farms The Prophet. His mother, Horse Feathers Onara, is a beautiful imported bay mare. Geordi's Grandsire is the beautiful King of the Road ("Roadie") sired by the famous Syd's Good Stallion. He has lines that go back to amazing horses such as King of the Road, Syds Good Stallion, The Lob, Old Paddy Horse, The Laughing Horse, and The Coal Horse.

Geordi is a wonderful young stallion. He has beautiful movement and a wonderful, kind temperament. He has nice straight feather, a thick mane and tail. He is a beautiful black and white tobiano. He also has a very full, thick, long mustache! He is currently around 14.3 and filling in very,very nicely. We love how he is maturing. He has fantastic gaits and is a very beautiful mover, he is also amazingly smooth to ride.

Geordi was started under saddle last year and did very well! We are currently working on his driving training, and he is coming along beautifully! He did fantastic at his first show last year, handling all the excitement very well! We are hoping to get him to some more shows this coming year. He is going to make a fantastic and flashy riding and driving horse. He is doing fantastic with his training, a very willing and smart horse to work with. We are looking forward to training and showing him in english, western, halter, jumping, trail and driving classes! We love this very versatile stallion! He has the most willing attitude. We are hoping to focus him in Dressage and Driving. He will be going into full time Dressage training very soon!

We are offering Geordi to qualified, quality mares of any breed. He will match beautifully to gypsy, shire, clyde or drum mares. He will also cross very well to other breeds such as thoroughbreds, quarter horses, paints, etc... We are very excited for the athletic sport horses this boy will produce. He puts nice bone on his gypsy cross foals as well as giving them his fantastic temperament.

Gypsy crosses make great very versatile horses. It's a great way to add a little bulk to your trail or pack horses, as well as adding a little more bone to your eventing horses. (He is a great jumper!) They make great english and western horses. They have been known to be used in dressage, eventing, western dressage, trail riding, packing, roping and many other events! With their fantastic temperaments, they also make very nice family horses. We love Geordi's mind and temperament and he put a soft, willing, sweet mind into his babies.

More pictures, pedigree, and video available upon request.
2018 Stud fee: $900
$200 booking fee (will go towards the stud fee.)
Fresh, Cooled and Frozen Semen available

Contact for more information. Book now to ensure you get to breed to this beautiful stallion. Limited breedings. Possible Discounts available.



Geordi is negative for PSSM1 and FIS (Foal Immunodeficiency Syndrome)
Geordi is Homozygous for black and
Heterozygous for Tobiano (he can throw solids or pintos!)


Take a look at Geordi's Beautiful Ancestors, as well as his beautiful foals!
Horse Feathers Geordi 2016
Horse Feathers Geordi 2015