Gone But Never Forgotten
​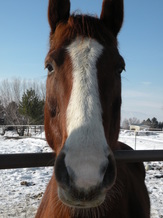 Blue Chief's Little Rowdie
American Quarter Horse
Foaled: 6/01/1996
Height: 15 hands
Color: Chestnut

We LOVE this big old QH! Rowdie is the best horse ever! I was there within a couple hours of this big boy being born and we've had him ever sense! He has been a trail/pack horse, a fantastic 4-H horse, goes english or western, dressage, hunter, eventing, quad drills, been ridden side saddle, played polo, chased cows, everything! You name it, I've probably tried it out on Rowdie boy! He is the best friend a girl could ask for growing up! Rowdie will be here with us forever! He is now a FANTASTIC lesson horse and baby sitter! I can put him in with anyone and he makes them behave, we hope he will be a good baby sitter for our full sized foals as well! Right now, his job is "babysitting" his very pregnant "girlfriend" Tecozy! haha.
---
Rowdie left us Dec 5, 2016. He will forever be loved, remembered and missed.
We love you big Boy. You'll always be in our hearts.

---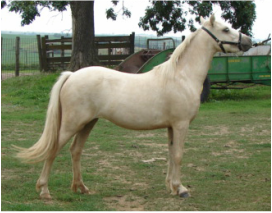 Showman Golden Heidi H

Sire: Captain's Show-Man
Dam: Red Rock Tomorrow's KL Blackie
Foaled: April 10, 2007
Height:
Color: Palomino
​ASPC

We are very happy to welcome this beautiful, proven broodmare to our program. Her pedigree is rich with Red Rock lines and she is sired by the amazing Captain's Show-Man. Heidi has thrown many very beautiful foals and we are really excited to see what she will produce here for us!
---
---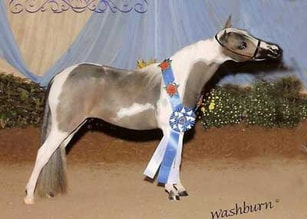 Reflections Star Bright

​Sire: Star Skipper
Dam: Circle S Bright Reflection
Foaled: 3/24/2006
Height: 32.5''
Color: Bay, Blue eyed Tobiano with Frame Overo
​AMHR/AMHA

We are so very honored to have the opportunity to add such a beatutiful mare to our program! Star Bright is not only out of Circle S Bright Reflection, who is Multiple World Champion that was exported to France, but she herself is a World Champion Show Horse!
---
Star Bright is registered with AMHA, AMHR and PtHA and is a Multiple Champion! She is trained in halter and showmanship. We feel so honored to add such am amazing mare to our program! She has had two beautiful foals as well and is a good mom. We haven't decided if we are going to breed her, or if we want to get her back in shape and show her for a few years! This beautiful talented mare has a LOT that she can teach me about showing! Star Bright is beautiful and kind. We have admired her for year, and are so thrilled to have this opportunity to bring such a wonderful mare to our program!

Thank you to our wonderful friends at JD Diamond Acres for allowing this amazing girl to come home with us! ​
2008 PtHA World Champion, (unanimous under all judges), Halter Mares, Miniature, 34'' & Under Halter, 2& Under
2008 PtHA World Champion, Tobian/Overo Color, Miniatutre, Mares
2008 PtHA Reserved World Champion, Amatueur Halter, Minature/B Miniature
2008 AMHR Two Year Old Mare-33'' & Under, Champion
2008 AMHR World Champion, Multi-Color Mares
2007 AMHA World Champion, Multi-Color Mares
2007 AMHA World Champion, Junior Champion Mare

2007 AMHA World Champion, Multi-Color Mares
​2007 AMHA World Champion, SN Showing Mare or Gelding
2007 AMHA World Reserve Grand Champion, Adult SN Showmanship
2007 AMHA World, Amateur Junior Mares, Level 1, 11th
2007 AMHA Central Championship, Multi-Color Mares, Champion
2007 AMHA Central, SN Showing Mare or Gelding, Reserve Champion
2007 AMHA Central Championship, Yearling Mares Over 30-32', Top Five​
2007 AMHA Honor Roll, Multi-Color Mares, Champion

2007 AMHA Honor Roll, Amateur Jr Mares, Level 1 Top 3​
2007 AMHA Honor Roll, SN Showing Mare or Gelding, Champion
2007 AMHA Yearling Mare, Reserve Champion
2007 AMHA Amateur Junior Mare, Level 1, Champion
2007 AMHA Reserve Grand Champion Amateur Junior Mare
2007 AMHA Reserve Grand Champion Junior Mare
2007 AMHA Multi-Color Mares. Champion
2007 AMHA SN Showing a Mare or Gelding, Champion
2007 AMHA SN Showmanship, Champion
2007 PtHA Grand and Reserve Grand Champion
---