Black Forest Stallion
Montanara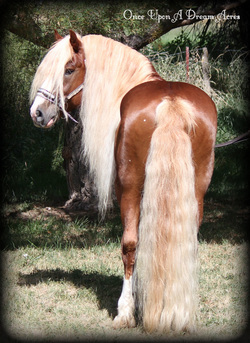 Montanara is truly a dream come true! We fell in love with the beautiful Black Forest Horse the first time we saw a picture of these stunning animals! We have been on the search for the right one to add to our program ever sense! We are THRILLED to announce that Montanara is here at Once Upon A Dream Acres! He is better then I ever imagined!
Montanara is privileged to be the first Black Forest foal to be born in North America. His stunning dam, Ramona, was bred in Germany to the beautiful Montan. She was imported in foal with Montanara. He was born in Washington to Black Forest Stables in 2002. They were the first to import and breed this beautiful breed in the United States, and we are thrilled to have one of their horses join our program!
Montanara has been lightly started under saddle, and we are thrilled to continue his education! We would like to finish his training under saddle as well as start him driving as he was bred to do! With his wonderful, willing temperament, and intelligent mind, we don't think it will take us long to get this stunning stallion going beautifully, we would like to try him in dressage as he has fantastic movement!
Montanara has a fantastic temperament and beautiful movement. He is a stunning 14.2 hand chestnut stallion. He has sired 4 beautiful foals that have left nothing to be desired! We are thrilled to have this beautiful, proven stallion standing at Once Upon a Dream Acres. We believe he is going to be a stunning stallion that will pass on his movement, temperament and beauty to his foals, whether they are full or cross breeds! We will consider crossing him to quality mares of many breeds! Please contact for more information and to see if it would be a good cross to Montanara. We expect him to throw very athletic crosses with fantastic minds.
We can't wait to get this boy a couple of mares and start an amazing program for these stunning horses. They are truly an incredible breed, and we can't wait to show others the beauty of the Black Forest Horse.
More pictures, pedigree, and video available upon request.
2019 Stud fee: $750
$200 booking fee (will go towards the stud fee.)
Fresh, Cooled and Frozen Semen available at any time, no live cover at this time.
Contact for more information. Book now to ensure you get to breed to this beautiful stallion. Limited breedings, as we will be focusing him mostly on our own Black Forest Program and building this incredible breed.
***HUGE Thank you to Ursula Seidel for allowing her amazing boy to come stand at stud at Once Upon A Dream Acres. We feel so incredibly blessed she has offered us this opportunity, and we are looking forward to working with her on building this incredible breed! Thank you Ursula***
---
Montanara 2016



Montanara 2015