Black Forest Draft Mares​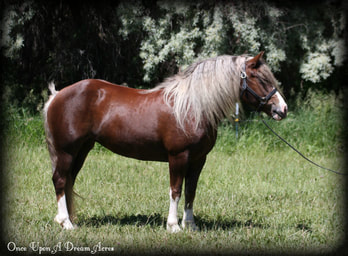 Mum's Magic Mili
Sire: Remo
Dam: Modest Moon
Foaled: 2009
Height: 14.3
Color: Chestnut

We are so absolutely THRILLED with the addition of this gorgeous young mare! I've admired Mili for many years and we are so very thrilled that she finally came here to join our family! She is such a great addition to our Black Forest Draft Program! We love Mili's very sweet, kind, gentle nature. Mili is started in both driving and riding and we are really excited to get to use this beautiful girl! I am hoping she will be a fantastic show horse, riding horse and driving horse for us to enjoy!

Mili is a stunning black forest mare that was born and raised by Spring Time Farm in Canada. She was imported from Canada by Once Upon A Dream Acres to add to our new, growing Black Forest Draft program! Mili's sire Remo was a 1994 Main Studbook registered, State approved and performance tested stallion. Remo was a beautiful example of this breed. He had a fantastic temperament that made him an excellent working horse. He was trained in both riding and driving. He passed on his gentle nature and beautiful movements to his offspring. He was very well loved by Spring Time Farm.

Mili's Dam is the lovely Modest Moon. She has been a fantastic producing mare for their program! She is known for being extremely sweet natured and sociable. We are so thrilled that we were able to add one of her wonderful daughters to our program!

​We are so very excited that we will be able to cross the lines of the great program in Canada with the program that was built here in the United States. Mili will be crossed to Montanara for some very beautiful Black Forest Draft foals! We can't wait to see them!

Mili has been confirmed IN FOAL to Montanara for 2018! We absolutely loved her 2017 colt by Montanara and we can not wait to see what they will produce for us again!
---
---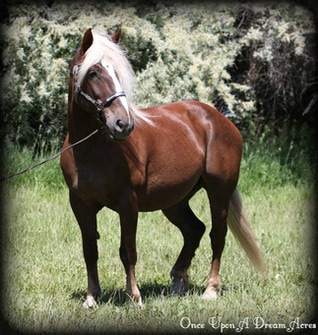 Waleska
Sire: Max
Dam: Wendi
Foaled: 2000
Height: 15.2
Color: Chestnut

Waleska is a stunning chestnut mare that was imported from Germany in 2005 by Ursula Seidal of Black Forest Stables in Washington. Waleska was imported in foal to the beautiful stallion Dachsberg and produced a beautiful colt named Dante. Dante has gone on to be an amazing stallion here in the USA. She is a beautiful mare that is a shining example of exactly what this breed should be! She is a tall, thick mare that is still incredibly athletic with lovely movement! She is smart, kind and incredibly friendly! She is really a "jack of all trades." She was trained in Dressage in Germany. Sense coming over here, she has produced 3 lovely foals, jumped, trail rides, gives lesson, and been used in Demos and Expos! She is a wonderful mare that is ready to do anything that's been asked of her!

We are SO thrilled to have this gorgeous mare join our program! She had already produced 2 lovely foals with our handsome Montanara, and we can't wait to see what they produce for our program! Keep an eye on our program! We are so excited to have such a proven pair join our program!

We were so blessed to have TWO foals out of Waleska born at Once Upon A Dream Acres this year! Due to the amazing work of Dr Geary, we were blessed to have a filly born to a surrogate mare via embryo transfer, as well as an amazing colt born to Walska herself! We couldn't be more thrilled with our 2017 Waleska foals, OU Dreams Monte's Willow and Monte's Mateo!

---
---
OU Dreams Monte's Willow
Sire: Montanara
Dam: Waleska
Foaled: 04/12/2017
Height: Estimated 15-15.2
Color: Chestnut
NABFR

Our beautiful, perfect girl has arrived! We could NOT be more thrilled with this wonderful little girl! Willow was brought to us via embryo transfer and a lovely recipient mare Oreo! She is truly a blessing!!! Waleska just blessed us with a lovely full brother! ​

Willow is so much fun! We just adore her! She is so full of life! She is curious, friendly, spirited and playful! She is growing like crazy and LOVES to eat like her momma! She has amazing long legs and loves to run! We couldn't be more thrilled with this little girl!
Willow has completely won me over, and will be staying HERE! She will be my next riding horse! I can't wait to show her! She will eventually go into our breeding program for this amazing breed to carry on her mom's legacy as well! ​