Miniature Horses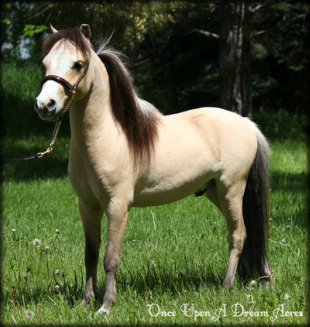 JD Diamond Acres BTU Dreamin of You

Sire: Little Kings BTU Ima Roo Too
Dam: Manipulators Bay Princess
Foaled 5/01/13
Height: 31.5''
Color: Buckskin Dun, one blue eye
​AMHR/AMHA

"Dreamer" is a stunning little horse. He is a coming three year old. We are thrilled to see this little man grow. We are very excited to get him in the show ring and let him strut his stuff. This gorgeous little buckskin has a fantastic conformation, wonderful bloodlines and an amazing temperament on top of it! We can't wait to see how this little boy grows and matures.

Dreamer is a fantastic young boy! He has excellent breeding, he is a grandson of BTU and NFC Manipulator. He is also a grandson of Pretty Woman, a Famous Buckaroo daughter! On his Dam's side, he is a grandson of Little Kings Miss Bay Buckeroo another famous Buckaroo daughter! As his breeding would suggest, he has very correct and balanced conformation! He has incredible alert ears and a gorgeous blue eye. He has a complete "Look at Me" Attitude and he LOVES to strut his stuff! We couldn't have wished for a better boy! We are thrilled with this little balanced, handsome, correct boy! We love our little Buckeroo Boy! He shows the very best characteristics of the amazing Buckeroo line!

We are very excited to see how Dreamer does in the gelding classes starting in 2017! Look for us in the show ring! He is going to be my main show gelding! I'm also currently breaking him to cart and he is doing fantastic! Our goal is to show in some driving classes next year!

We want to thank our wonderful friends at JD Diamond Acres for letting us bring home this beautiful perfect little boy.

***News Flash*** Dreamer received a 2nd in Model Stallion, 2nd in 3 and older Stallion, a Reserve Senior Stallion, and Two 1st and One 2nd in Color at the 14th Annual Snake River Miniature Horse Show!

***News Flash*** Dreamer received 1st place for Junior Stallion and was the Grand Champion at the Eastern Idaho State Fair! We are so proud of our little man! He was a rockstar the whole week of the fair and made a lot of new friends!

***News Flash*** Dreamer did fantastic at his first show with us! We took him to the 13th Annual Snake River Miniature Horse Show where he received 2nd place in 2 year old stallions and 2nd placed in Junior Stallion.


---
---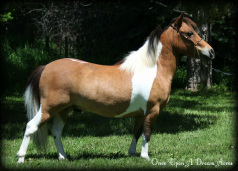 JD Diamondacres Moon's Clydascope "Clyde"
Sire: Tomahawks Dandy Moon
Dam: Rivers Edge Lovers Mardi Gras
Foaled: 4/29/2011
Height: 34.2''
Color: Bay Pinto
AMHR/AMHA

Clyde is one of our all time favorite horses here at Once Upon a Dream Acres! We purchased him as a yearling from JD Diamond Acres after falling in love with him at our first meeting! Clyde is an amazing little gelding! He is one of our very favorite lesson horses! He absolutely ADORES all of our tiny students and is a wonderful little teacher!
---
Shetland Pony
Dash is a gorgeous show pony that's been to both Worlds and Nationals! He is experienced and LOVES to strut his stuff in the ring! We are so thrilled to add such a beautiful and talented boy to our family and show string! I'm hoping Dash can take me out and teach me a few things! I can't wait to take him into the ring!
---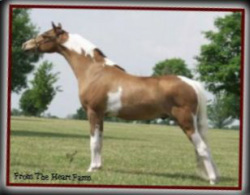 Alpha Farms Magical Debut (HOF)
Sire: Buckeye WCF Classical Magic (HOF)
Dam: Missy's Mona Lisa (HOF)
Foaled: 05/05/2005
Height: 42''
Color: Bay Pinto
​ASPC/Foundation

Debut is such a fancy boy and we are thrilled to have him join our family! He is a wonderful boy with a long list of accomplishments in the show ring! He has the experience and beauty to do well with us! We are very excited to get him started in his new chapter with us as a lesson horse! He is a wonderful boy that we are very excited to use in our lesson program, as well as be an experienced show horse for our wonderful students to take into the show ring!


---