Welcome to Once Upon a Dream Acres!

From Our Dreams to Yours



New Happenings at Once Upon a Dream Acres!!!
Our first Shetland Pony Filly of 2017 has arrived!!!! Please help us welcome this beautiful little girl!
Our lovely new girl Deedee gave us this pretty girl at 2:43 am on May 17th! She is out of TFD's Double D's Girl by McCalls KL Fancy Tebo. She is a black pinto, or possibly a blue roan pinto! We are just thrilled!
---
Please help us welcome these three new amazing boys!!!!
Thank you so much Platte Ridge Farms!

| | |
| --- | --- |
| | ​We are so absolutely THRILLED to welcome this fantastic stallion to our home!!! I have absolutely admired, loved and adored this stallion sense I started into ponies! Please help us welcome the one and only Grassmere's Lil' American Idol! This exceptional boy is out of Grassmere's Glamorous Gal by Grassmere's Mr. Sho-Dee-Oh Kid! He is a proven sire and we love his get! He is line bred Winks Showdeo Kid II and has a fantastic pedigree to go along with his good looks! He is the sire of our lovely Plattes OU Dreams American Diva and Plattes OU Dreams American Max that we had born here last year! |
We have also had the honor to add these two exceptional young boys to our family! We are thrilled to add Plattes Uniquely Inspired and Grassmere's Truly Exhilarating here! These two young boys are by one of my very favorite shetland stallions, Grassmere's Mr. Unique (HOF). These boys have some big hooves to fill!
| | |
| --- | --- |
| Plattes Uniquely Inspired is by Grassmere's Mr. Unique (HOF) out of Oneka's French Silk. He is a lovely 2 year old black colt. We have hope that he may mature into a lovely boy we can cross back onto Rambo's daughters. He has a wonderful build and the big, beautiful movement we are looking for! We are really looking forward to watching this young boy grow and mature! | Grassmere's Truly Exhilarating is by Grassmere's Mr. Unique (HOF) out of Grassmere's Kit Kat. He is a 3 year old beautifully moving boy! We are looking forward to getting this boy in harness very soon! We are planning on getting him solid in cart, so we can later team him with Inspired! We are so thrilled with his boy! |
---
She is HERE! She is HERE!!! Our very first Full Black Forest Draft Filly has arrived!!! She is absolutely perfect!!! Help us Welcome OU Dreams Monte's Willow!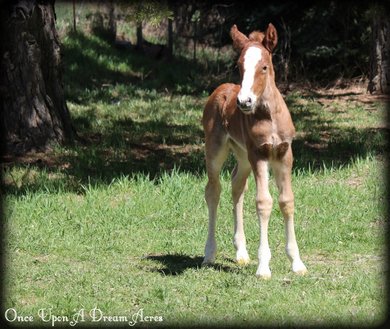 ​OU Dreams Monte's Willow is a gorgeous little filly!!! We could NOT have wished for a better girl! She is a daughter of Waleska by Montanara. She was delivered to us by a wonderful surrogate mother Oreo! What a blessing this girl has given us!

More information and pictures to come!!!

---
---
Once Upon A Dream Acres
We are a small breeding program located in Idaho focusing on quality horses with beautiful conformation, fantastic movement, and amazing temperments! We hope to make your dreams come true as ours have!


I always dreamed of being able to have a breeding farm. I am so very excited about our start with these beautiful horses! We have a few different breeds, but the focus is all the same! We want to breed horses with balanced conformation, beautiful movement but most importantly, fantastic temperaments! We are striving for versatile, friendly, solid, smart horses!


Take a look at a couple of our programs!

First is our AMHA/AMHR Miniature Horses and ASPC Shetland Ponies! Our horses should do well in many different areas including the show ring, driving, performance while also making wonderful family horses. We have fallen in love with these little horses and love the joy they bring people of ALL ages!

We are thrilled to have the pleasure of standing a gorgeous Gypsy Vanner stallion here at Once Upon a Dream Acres as well! Horse Feathers Geordi is my dream horse come to life! I always dreamed of having a beautiful black and white gypsy stallion. He is everything I wished for and much, much more! He has stunning movement and the most amazing temperament. He is so incredibly sweet, willing and soft. We couldn't have wished for a better boy!

We are very thrilled to announce the newest program to Once Upon a Dream Acres! With the newest member to our family, we are thrilled to announce that we will have a new breeding program, the Black Forest Draft Horse! Montanara is a stunning Black Forest Stallion and he is just the first of a very exciting new program! We are thrilled that Waleska and Mili have come to join the program! We are hoping to add a few more mares and we have a goal to breed, promote, and show the world just how incredible the Black Forest Horse is! Please follow us to see this incredible breed grow!

We hope that we can make your dreams come true as well!
From Our Dreams to Yours!
Please visit our other website,
http://learning-through-horses.com
to see all of our other programs! From riding lessons, horse training, and day camps to boarding! Let us know what we can do for you!